Since it is Halloween time, I thought some scary music would be apropos. Yes, I just used apropos in a sentence, and I even spelled it right the first time. That's just how I roll. Anyway, we might as well start things off with the scariest band in the world -
Deadbolt!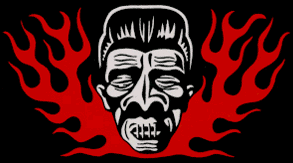 Having seen Deadbolt too many times to remember, I have to say they are damn scary! I assume they are still playing, but I haven't seen them since Rocket from the Crypt's last show. But no matter what, this is some damn scary stuff right here:
Vodoobilly Man - MP3
Next we have
The Horrors!
I don't know a whole lot about these guys, just that they are like a mix of The Damned, Black Rebel Motorcyle Club, and The Misfits (the good Misfits, not the new Misfits). It doesn't matter though, because they are obviously very scary and wear a lot of black eye makeup.